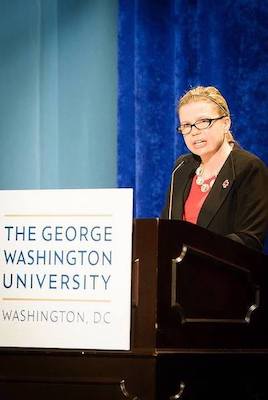 July 1, 2021
President Mark Coursey opened today's meeting, his first as Club President for this Rotary year. Since July 1st is Canada Day, Mark led the members in singing O Canada!
Diane Lebson, a Camden Rotarian, and CEO/Co-founder of Evergreen Philanthropic Solutions was our speaker today. Evergreen Philanthropic Solutions is a national consultancy that helps nonprofit organizations, individuals and foundations achieve their goals. Diane shared the Rotary Promotes Peace video with the Club, and announced that the Camden Rotary Club is the first Rotary club in New England to be a Peace-Building Club. Diane shared details about the Global Peace Index study, which shows information about 163 countries around the world and where they stand on global peacefulness. Diane also announced that on Martin Luther King Day, January 17, 2022, there will be a Civil Discourse symposium held in the Camden area, involving Rotarians, community leaders and students from CHRHS. Anyone seeking more information from Diane, please contact her directly at dianelebson@gmail.com
Barbara Heard, Kim Milton, and Kate Dullea were approved by the Club to be this Rotary year's At-Large Members to the West Bay Rotary Charitable Foundation Board.
President Mark asked everyone to send thoughts to him (marksrotaryemail@gmail.com) about Hybrid Meetings, as the Board is meeting next Wednesday to discuss future meeting plans for our Club.
The District Grant for One Less Worry has been approved for this year (announced by Etienne Perret).
Signups are underway for West Bay's involvement at the Maine Boat and Home Show...go to westbaysignup.com to signup for your date/time slots for this important fundraiser!
Sandy Cox thanked Club support of the Fence Scraping project, however, it still needs 4 volunteers for a couple of hours on Saturday, July 17th (contact Sandy directly to volunteer - email is sandy@thenewenglandreco.com )
The April-May Club Video was shown during the meeting.....it's available on the West Bay Rotary website (look for WBR Monthly Videos under Links on the right side of the website)
Next Tiki Time - Friday, July 23rd, starting at 4:30m at the Walkers' lakefront home.....details to follow!